Budge Collins – Founder & President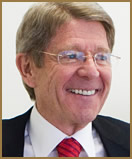 Budge Collins, founder and president of Collins BIS, is a USC engineering graduate who found his true vocation in the institutional investment industry.
Forty years ago, institutional investors were badly served. Budge saw an opportunity to help them evaluate investment managers. His success earned him industry recognition and esteem. For more than a decade he achieved Greenwich Associates' highest ranking for his knowledge of investment managers.
In 1985, Budge moved to investment management itself. He offered funds of hedge funds to institutional investors. He raised more than $6 billion and by 2000 headed America's largest funds of funds investment manager.
That year Budge founded Collins BIS as a highly specialized investment management research organization. He sought outstanding, undiscovered deep value investment managers to manage his personal, corporate and foundation assets.
Through his foundation, Budge contributes to a number of philanthropies. He serves on the Advisory Board of the Heilbrunn Center for Graham & Dodd Investing at Columbia University and is a sought after speaker at seminars on investment and leadership. He sponsors the annual Collins Cup Regatta between three top west coast university crews.
Above all, Budge is devoted to his family. With all his other responsibilities, he remains a dedicated practitioner of physical fitness. Anyone who has tried to keep up with him knows he is highly competitive and is an expert skier, cyclist, runner and angler.